IBM Supply Chain: Shared Visibility Ledger

PROBLEM SPACE
The communication systems among organizations in supply chain are inefficient and outdated. A pain point that supply chain practitioners experience is they don't have "visibility" into pertinent information. For example, they might not know when to expect a shipment from their supplier that has been picked up by a carrier.

To fix this problem, there is an opportunity to take advantage of an emerging technology known as blockchain that will allow for information to be shared in one place and for organizations to be held accountable.

INITIAL RESEARCH / PERSONAS
Being a project from the ground up, there is little past research and no primary personas, so I borrowed personas from neighboring supply chain teams under the Watson Customer Engagement portfolio to use as jumping off points.
Existing personas from Supply Chain Insights team
MY ROLE
UX Research Lead, UX Design

Our team had partnerships with clients known as sponsor users whom we regularly engaged with to ask research questions and to share our designs. These sponsor users included JB Hunt, Husqvarna, Kimberly-Clark, and Toyota. I created research plans and led interviews with employees from the sponsor organizations.

I also recruited people that matched the existing personas using the recruiting platform Respondent. I led the one-on-one interviews with the participants.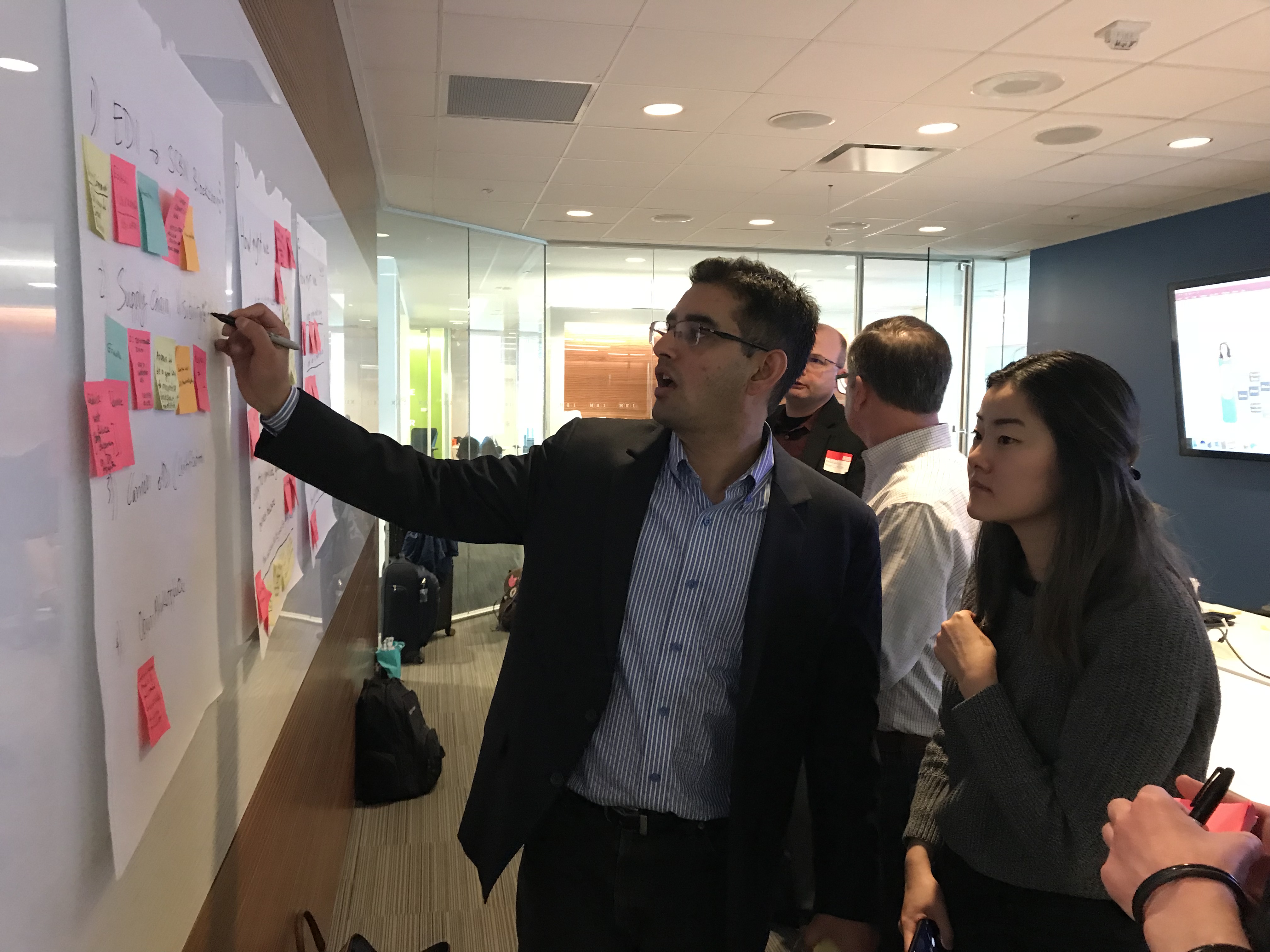 Identifying value propositions in a workshop with JB Hunt with my amazing posture
DESIGN
The research heavily informed the initial designs for this product, including the first design milestone: onboarding set up for the users, which my team referred to as "Configuring a Ledger".

I used the UserTesting.com platform to conduct unmoderated usability tests on the wireframes. The feedback from the participants further allowed me to present and make design decisions for the wireframes. After every set of interviews, I presented a research "playback" to the wider Shared Visibility Ledger (SVL) team, which included product managers, engineers, and designers.

Eventually, I started to have a sense of how the roles in supply chain related to one another and began to sketch out how they work and communicate with each other.
Getting started homepage
Making an account and inviting participants
Finally, some key personas! I identified three potential personas within the buyer, supplier, and carrier roles that would use SVL. These three personas are notable because they hold a strategic role and they are typically the ones that hand off and communicate with the other organizations in the supply chain.

Persona Mapping Sketch
The top 3 key personas for SVL
With the key personas identified, I validated them with our sponsor users and interviewed more participants from Respondent. My team and I continued to create designs. The Discrepancies and Alerts wireframe shows the alerts that an SVL user would want to know about — when a shipment is delayed, for instance.

Discrepancies and Alerts page
OUTCOME
The main takeaway from this project for me was learning to lead a team on research. A lot of my work involved me working independently as a researcher while also collaborating with the rest of the design team and educating them on the research.

This was one of the most challenging projects I worked on because I simultaneously learned about supply chain while designing for it. Much of the research led me to more questions than answers. Reflecting back, I realize that there was a lot of uncertainty, especially in the beginning. But as I worked through the uncertainty, I started to see how the pieces fit.